Internship at Eataly Boston
eataly.jpg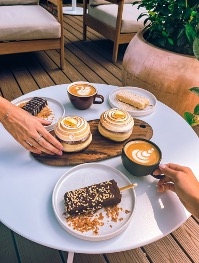 Last summer, Eataly Boston opened its doors to a Dartmouth intern: Emma Briskin. The eight-week paid internship in marketing and design helped Emma apply and refine skills developed in her coursework while also offering her the opportunities to build new ones. The Eataly management staff worked with us in the Italian Program in identifying goals that would take Emma's skills into account while allowing her to grow. Thank you, folks, at Eataly Boston! We look forward to continuing to work with you. And thank you, Emma, for being such an outstanding first Eataly/Dartmouth intern.
We are now receiving applications for the upcoming Winter and Spring internships. Interested in applying? Contact Prof. Convertini.
Read Emma's short article describing her experience at Eataly.
Eataly Internship: Experience, transferable skills…and fun. Ciao from Boston, where I spent the summer working at Eataly as the Marketing, Events and Education Intern! For those who don't know, Eataly is a worldwide chain of artisanal Italian food and beverage marketplaces. Inside the gigantic store are several restaurants featuring classic Italian dishes, quick service counters serving everything from bombolone to insalate, and a full grocery store of products to take home. Running the store each day takes a talented team of "Eatalians," who put their passion for Italian food and wine first in everything they do. I was honored to join this team for the summer, thanks to the Italian professors at Dartmouth and the management staff at Eataly Boston that coordinated the effort to set up the internship that I completed. Promoting Cocktail Fest in front of the store!
During my eight weeks at Eataly, no two days were the same. One day, I was developing my graphic design skills by creating a digital ad campaign, and the next I was setting up tables for a store-wide wine tasting event. This variety kept me interested and always taught me something new. As a part of the Marketing team, I was able to create over 80 signs for display around the store and helped with several social media posts (see if you can spot my hand modeling on the Eataly Boston Instagram!). Sitting in on strategy meetings gave me an understanding of how to craft long-term marketing plans and how to effectively communicate with customers. Speaking of customers, working with the Events and Education team taught me how to design and run events that our guests would remember forever. From wine and cheese tastings on the patio to pasta cooking classes in La Scuola, I learned how to set up and execute events that were both fun and educational. Of course, tasting the fresh Parmigiano Reggiano DOP or Bucatini all'Amatriciana was an added bonus. An Instagram post promoting bombolone al limone, gelato pops, and cappuccino from Terra restaurant.
My educational background helped me succeed in this internship. While the internship was in English, many of the Eataly managers were Italian, and they were delighted that I could speak with them. My Italian knowledge also helped with writing information about the products and where they came from. During my LSA+ in Rome last winter, I had learned so much about Italian food and wine and developed a true love for it. Eataly's mission is to educate guests about the stories behind the food they ate, teaching them the same information I had learned abroad without ever needing to leave Boston. Helping guests develop the same passion I had was incredibly rewarding.
After this experience, my love for Italy and Italian cuisine is even stronger. The work I completed developed my marketing skills and overall business understanding, something I'll take with me into my future career. I learned the importance of loving what you do and the power of working with passionate people. Most importantly, I saw how my Italian education could serve me outside of the classroom. I would recommend this internship to anyone looking to enrich their Italian knowledge, develop their business skills, and eat delicious food. Grazie Eataly! The Marketing team!